Concert Roman Lomtadze din Scars of Broadway, LIVE în Capcana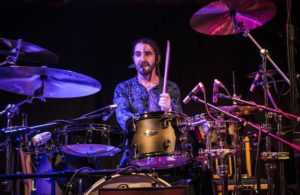 Muzicianul Roman Lomtadze din Scars of Broadway – o renumită formație rock înființată de Daron Malakian de la System of a Down, va susține un concert LIVE în clubul Capcana, duminică 19 ianuarie, după ora 20.00.
Georgianul Roman Lomtadze este apreciat și cunoscut ca fiind toboșarul trupei Scars of Broadway  fondată de Daron Malakian, chitaristul trupei System of a Down. Fiind un maestru în tobe și percuție, Roman Lomtadze susține concerte ONE MAN SHOW de excepție, cu sunete adiționale de pe computer și stație de looping.
Muzica lui îmbină într-un mod original stilul folk georgian cu rock, metal, muzică electronică dar și alte genuri. Spectacolele lui Roman Lomtadze sunt pline de ritmuri puternice, inedite și o energie pozitivă care ține mereu publicul în priză.
Intrare concert: 15 lei
Eveniment Facebook: https://www.facebook.com/events/497219884480698/